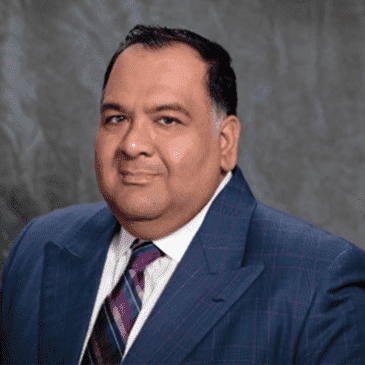 Dr. Sanjaya N. Saheta, MD, FACC is a board-certified cardiologist in cardiovascular disease, interventional cardiology, nuclear cardiology, and internal medicine. He has more than 20 years of experience treating both cardiac and vascular patients.
Dr. Saheta attended Case Western Reserve University in Cleveland and St. George's University School of Medicine in Grenada. He went on to serve his fellowship in cardiology where he also served as chief fellow at Allegheny General Hospital in Pittsburgh, his fellowship in interventional cardiology also at Allegheny General Hospital, and his internship and residency in internal medicine at MCP/Hahnemann University (Drexel University College of Medicine) in Philadelphia.
Dr. Saheta is a fellow of the American College of Cardiology (FACC). He is licensed in both Missouri and Illinois, and is on staff at Christian Hospital Northeast, South City Hospital, Progress West Hospital, Barnes-Jewish St. Peters Hospital, Missouri Baptist Medical Center, and St. Luke's Des Peres Hospital, all in Missouri, and Gateway Regional Medical Center in Granite City, Illinois. He is accepting new patients at all of St. Louis Heart and Vascular's five locations in the St. Louis metro area.
He treats cardiac and vascular conditions, specializing in heart attacks, angina, atrial fibrillation, arrhythmias, palpitations, heart failure (CHF), heart valve disease & murmurs, hypertension, leg pain & claudication, and limb ischemia. He has expertise in noninvasive cardiac and artery/vein vascular imaging, echocardiography, nuclear cardiology, stress testing, preoperative risk assessment, and preventative cardiology.
As an Interventionalist, Dr. Saheta also performs all cardiovascular and vascular interventional procedures, such as angiography, angioplasty, atherectomy, and stent placement via safe, minimally invasive wrist (radial artery) and femoral artery techniques.  Additionally, he implants permanent pacemakers and rhythm recorders.
Outside of cardiology, Dr. Saheta has a keen interest in hockey and spending time with his wife and daughter.