St. Louis Heart and Vascular prides itself on offering comprehensive services for patients. These services include imaging with state-of-the-art technology for PET and CT (also known as CAT) scans, located at our Bridgeton office (3550 McKelvey Road).
Positron emission tomography (PET) uses small amounts of radioactive materials called radiotracers, a special camera and a computer to help evaluate your organ and tissue functions. By identifying body changes at the cellular level, PET may detect the early onset of disease before it is evident on other imaging tests. A PET scan measures important body functions, such as blood flow, oxygen use, and sugar (glucose) metabolism, to help doctors evaluate how well organs and tissues are functioning.
CT imaging uses special x-ray equipment, and in some cases a contrast material, to produce multiple images or pictures of the inside of the body. These images can then be interpreted by a radiologist on a computer monitor. CT imaging provides excellent anatomic information.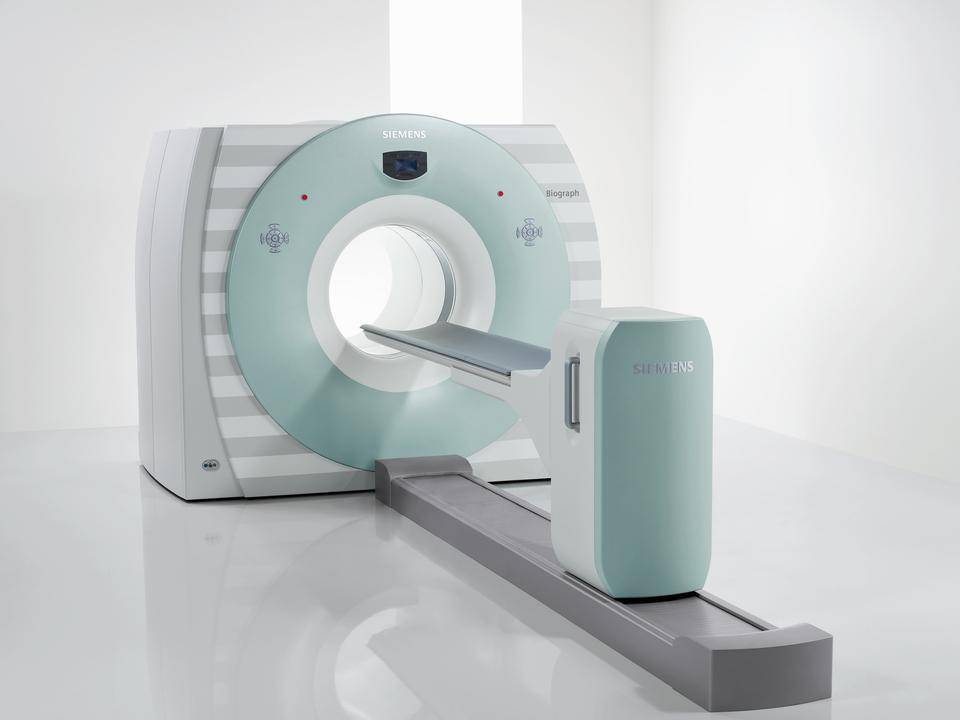 PET and PET/CT scans are performed to:
determine blood flow to the heart muscle.
determine the effects of a heart attack, or myocardial infarction, on areas of the heart.
identify areas of the heart muscle that would benefit from a procedure such as angioplasty or coronary artery bypass surgery (in combination with a myocardial perfusion scan).
evaluate brain abnormalities, such as tumors, memory disorders, seizures, and other central nervous system disorders.
map normal human brain and heart function.
detect cancer.
determine whether a cancer has spread in the body.
assess the effectiveness of a treatment plan, such as cancer therapy.
determine if a cancer has returned after treatment.
With ordinary x-ray examinations, an image is made by passing x-rays through the patient's body. In contrast, nuclear medicine procedures, such as PET/CT, use a radioactive material, called a radiopharmaceutical or radiotracer, which is injected into the bloodstream, swallowed or inhaled as a gas. This radioactive material accumulates in the organ or area of your body being examined, where it gives off a small amount of energy in the form of gamma rays. Special cameras detect this energy, and with the help of a computer, create pictures offering details on both the structure and function of organs and tissues in your body.
Unlike other imaging techniques, nuclear medicine imaging exams focus on depicting physiologic processes within the body, such as rates of metabolism or levels of various other chemical activity, instead of showing anatomy and structure. Areas of greater intensity, called "hot spots," indicate where large amounts of the radiotracer have accumulated and where there is a high level of chemical or metabolic activity. Less intense areas, or "cold spots," indicate a smaller concentration of radiotracer and less chemical activity.
Computed tomography, more commonly known as a CT or CAT scan, is a diagnostic medical test that, like traditional x-rays, produces multiple images or pictures of the inside of the body.
The cross-sectional images generated during a CT scan can be reformatted in multiple planes, and can even generate three-dimensional images. These images can be viewed on a computer monitor, printed on film or by a 3D printer, or transferred to a CD or DVD.
CT images of internal organs, bones, soft tissue and blood vessels provide greater detail than traditional x-rays, particularly of soft tissues and blood vessels.
A cardiac CT scan for coronary calcium is a non-invasive way of obtaining information about the presence, location and extent of calcified plaque in the coronary arteries—the vessels that supply oxygen-containing blood to the heart muscle. Calcified plaque results when there is a build-up of fat and other substances under the inner layer of the artery. This material can calcify which signals the presence of atherosclerosis, a disease of the vessel wall, also called coronary artery disease (CAD). People with this disease have an increased risk for heart attacks. In addition, over time, the progression of plaque build-up (CAD) can narrow the arteries or even close off blood flow to the heart. The result may be chest pain, sometimes called "angina," or a heart attack.
Because calcium is a marker of CAD, the amount of calcium detected on a cardiac CT scan is a helpful prognostic tool. The findings on cardiac CT are expressed as a calcium score. Another name for this test is coronary artery calcium scoring.
---
These are just some of the many uses of PET/CT imaging. Talk to your doctor about our services and how they might benefit you. To make an appointment with our office, please contact us at (314) 741-0911, 24 hours a day.